EOC (Ethernet over Coax), also known as IP Over Coax, is used to transmit Video & Audio & Data over existing coaxial cables (RG59 or RG6).
Linovision EOC converter has some unique features, like POE power + data transmission, up to 3,000ft long-reach ethernet over coax extender and no DC12V power is required.
Why use Linovision POE IP Over Coax Products
1. Upgrade analog CCTV system to IP surveillance system without replacing coaxial cables.
It is an evitable trend to upgrade existing analog coax camera systems to IP surveillance systems as the network IP cameras provide higher resolution recording and intelligent video analysis features. The majority cost of this migration is to re-wire all these coaxial cables. Linovision POE IP over coax solution perfectly solved this issue by running POE power and video data over existing coaxial cables. Users can simply replace cameras and DVRs at a very small budget and enjoy the advantages of IP video surveillance systems.

2. Long reach ethernet data extender to max. 800 meters (or 2,624 ft) without repeater.
There is a limitation of 100 meters for ethernet data to transmit over Cat5/6 cables, some ethernet extenders can do max 250 meters while reducing bandwidth to 10Mbps. There are many scenarios that require much longer transmission without repeaters. Linovision will help on this case. With Linovision EOC converters or EOC-switches, the ethernet data and POE power can transmit up to 800 meters (2,624ft) over Cat5 cable or twist pair cables. Below is a transmission distance comparison chart.

3. Data and Power transmission in elevators, underwater video system, or any location with two-pin cables.
More and more devices and terminals are upgraded to IP device, but there are lot of transmission medias are still not ethernet cable. With Linovision POE IP over coax converter and EOC switches, ethernet data and POE power can go over coaxial cables, twist pair cables, power cables, or almost any two-pin cables.

Selection of Linovision POE IP Over Coax Products
EOC-Converter (Transmitter + Receiver)
EOC-Transmitter + EOC-Receiver package for single port POE IP over coax converter

EOC-Switch08
8-port POE & EOC Hybrid Switch, POE budget 120W (8 EOC-Adapters included in package)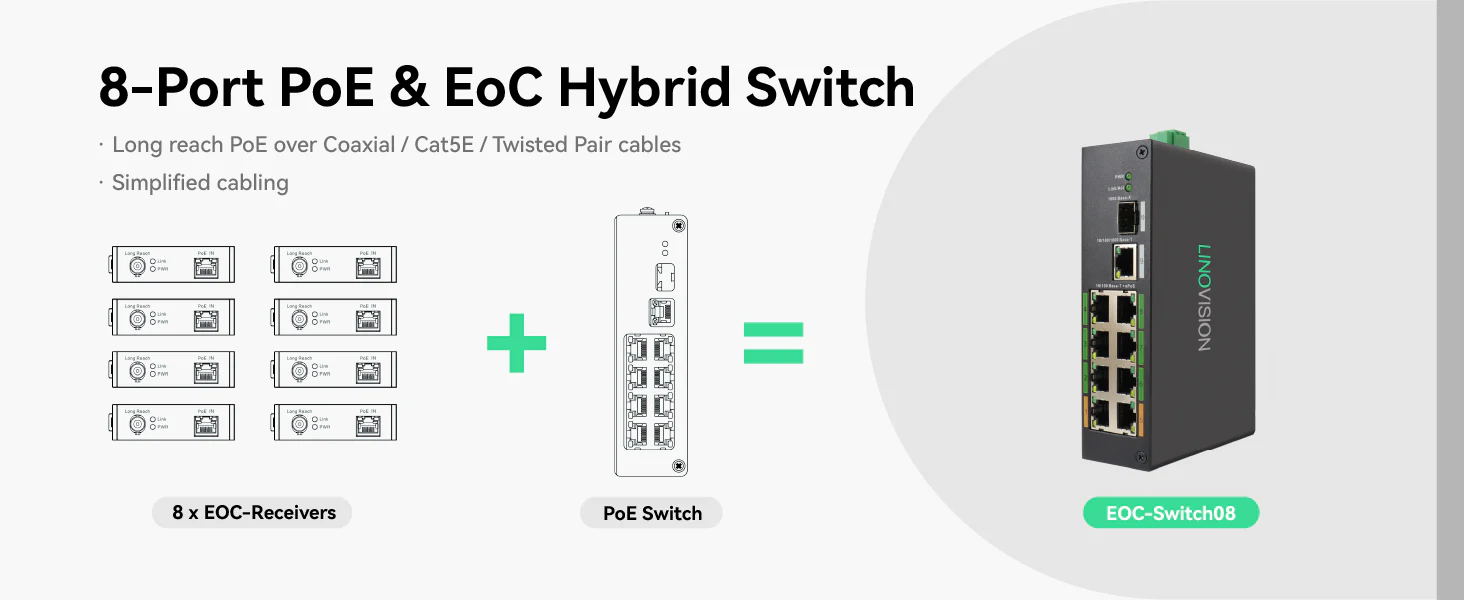 Linovision EOC-Switch08 is an 8 ports industrial PoE Switch with built-in 8 EOC Receivers. Each port is auto-adaptive to PoE mode or EoC mode. When bundled with EOC-Transmitter, it works in EoC mode and transmits PoE power and data through coaxial cable or UTP cable up to 3,300ft. All the ports are very flexible in any mode, for example, you can use 4 ports in EoC mode and another 4 ports in PoE mode. Compared to 8 pairs of EOC-Converters, it provides much-simplified cabling and reduces your cost. It also offers an unparalleled advantage for long-reach PoE power at almost 10 times longer than regular PoE switches.
Connection Diagram Comparison to 8x EOC-Converters
Connection Diagram Comparison to 8x EOC-Converters It provides much-simplified cabling if you use multiple EOC converters in a site. When upgrading the analog system to an IP surveillance system, you can choose this EOC-Switch08 + EOC-Transmitters kit to reuse legacy coaxial cables, and you can add a few extra IP cameras with UTP (Cat5E/Cat6) cables. This will be a very simple and flexible solution for you.